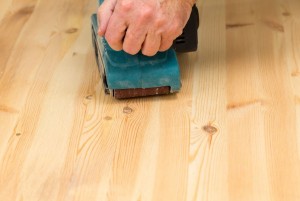 If you have spent money on some good quality flooring you probably want to decorate your room accordingly. Even if you have the cheapest flooring option available you can still achieve very respectable results with some good advice and creative thinking.
Light wooden floors can be quite contemporary looking. They often go well with slightly darker walls. This provides a pleasant contrast. There are possible more variations with a light, plain wooden floor than with any other option. Walls can be painted almost any colour and still suit a white or crème coloured floor. Decorating a room with light coloured furniture and cushions/bedding that match the walls is perhaps the best way to have a designed look that doesn't cost the earth.
Dark floors also work well with some contrast. This basically means light wall colours, though there is still a fair amount of variation possible. Dark trim on windowsill and doorframes (the same colour as the flood) can look very suave. Rich, earthy colours and/or lighter leather furniture can make a room look classically old fashioned.
Neutral looking floors and walls allow a lot of detail to be added by furniture and decoration. Too much detail in walls and floors make a room look too busy and cluttered.
Furniture should have felt pads under its legs to protect the wooden floor's finish, especially important for items like chairs that tend to be moved
Pianos are part of many homes. Though they are often on wheels they can easily damage wooden or other hard floors when moved. Keep any Piano on caster cups, which will both prevent scratches on the floor and prevent the Piano from rolling away. The isolation these provide form the floor also improve the acoustic slightly. An alternative to this is putting a heavy rug under the Piano. This separation from the hard floor should make the instrument sound a little better.
A rug is the simplest way to change a room, both functionally and stylistically. Change your rug for summer and winter and enjoy a different look.