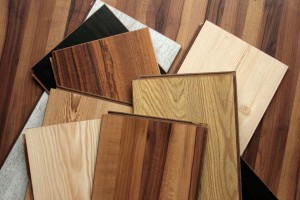 Effective decorating always entails coherence; the various pieces must fit together in a way that makes sense. Of course there is infinite possible variation here; items can match, clash or complement each other. As the floor is one of the most permanent parts of a building is should be chosen with the future décor in mind.
Window Shutters.
Shutters are a useful addition to many houses. Apart from the classic look that are great for letting it or blocking light, and are just as useful for keeping the rooms warm or cool. Matching the look of the wooden shutters to the floor can achieve very pleasing results, especially if the wall colour is suitable. Else, darker shutters and lighter floors can work well; you might match the shutters to the skirting boards.
Non-wooden shutters can often be made to resemble a wooden finish. These can be equally effective.
Furniture.
Wooden furniture varies from inexpensive (but quite pleasing) pine to classic rich hardwoods. There are also many good buys to be had second-hand. Matching the look of the furniture to the floor is recommended; this should not be identical types, but dark furniture with light floors or light furniture with dark floors is effective.
Always have coasters or carpeting under the furniture legs to prevent scratching.
Doors
Décor wise these are similar to the window shutters. Matching the shutters and doors can be quite effective. Else, if the door has a wooden finish, use a light and dark contrast with the floor.
Walls
If you have elaborate looking floors and furniture it is best not to go overboard on the wall design. Find a complementary colour that stays in the background, and let the room's appearance come from the wooden furnishings and floor space.
A design mistake to avoid is having too much detail. Wooden finishes are appealing because of the grain and colour, and grain is a fine detail. If there is detailed wallpaper, detailed flooring and many details in the furnishings and art you will find the room lacks focus. Let one aspect stand out, and let the rest be in the background.